Heater Core Wire is part of the Scott Precision Wire stranded product range and is manufactured specifically for the On-Site Heat Treatment industry.
The stress-relieving process of pressure vessels and pipework demands a consistently high-quality heater core wire for both efficient assembly of the heater mats and the reliable high-rated temperature performance on site. The industry standard alloys and stranded wire sizes are stocked for immediate despatch to service the range of global specifications. In addition, bespoke configurations can also be made to accommodate specific stranded wires and resistances.
get in touch to find out how we can help...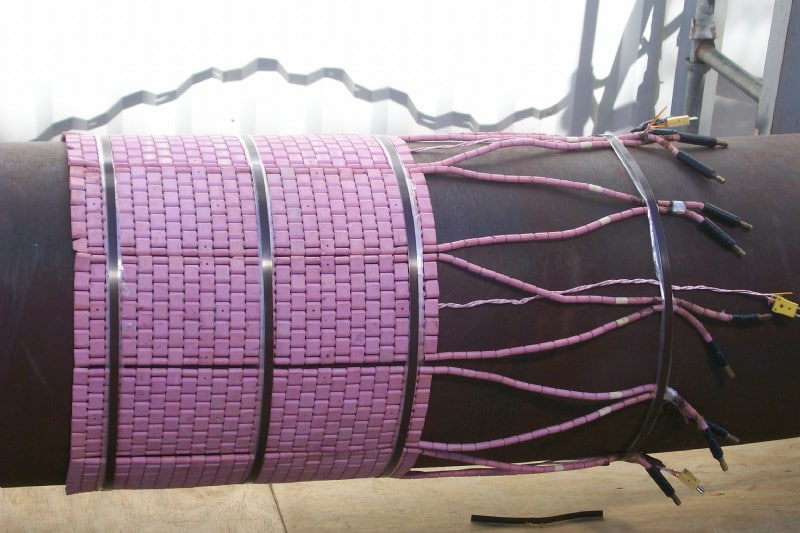 Scott Precision Wire has many years' experience producing electrical resistance heating wires and we manufacture the individual electrical heating strand wires to the precise resistance to meet the demanding standard of our customer's heater core wire specifications. The heater core wires are made from Nickel Chrome 80/20, Nickel Chrome 60/16, Iron Chrome Aluminium, Nickel and Nickel Manganese 2% (Nickel 212).
Each stage of the heater core wire manufacture, from the single wire to the finished stranded wire, is quality tested to ensure that the heater mats can be constructed as quickly and efficiently as possible. Modern annealing equipment is used to ensure that the stranded wire is produced to the consistent quality that the on-site heat treatment industry demands and expects.
New spooling equipment means that each metre of heater core wire can be taken off efficiently, lying flat and without spiralling. Final quality inspection and resistance testing is carried out on each and every stranded wire spool.
The processing of the conductors ensures the finished strand is flexible to aid the manufacture of the various systems in use.
Standard spool sizes for the heater core wire are D355's with 500 metres of stranded wire or D250's with 100 metres of stranded wire. Alternatively, the heater core wire can be supplied on other spool types to meet the specific customer requirements.
Scott Precision Wire manufacture and stock the heater core wire in all the common industry standard stranded wire configurations.
In addition to the common alloys and sizes Scott Precision Wire can manufacture bespoke configurations of Heater Core Wire to metric, Wire Gauge or imperial dimensions. Specific resistances can also be accommodated because the complete production process is carried out and controlled within Scott Precision Wire. Contact Scott Precision Wire for all your On-Site Stress Relieving Heater Core Wire requirements.
Totally flexible solutions with
From small, one off samples to large, quality controlled orders, Scott Precision Wire offer the best, not only in quality production but with ongoing technical support all backed up with a strong supply chain, huge stock and multiple years of experience.
Orders for quantities of Heater Core Wire ranging from 100 metres to over 100,000 metres are all within Scott Precision Wire capabilities. Since 1928 we have been supplying the electric resistance heating industry with high-quality wire for many different applications. The Post Weld Stress Relieving sector is a demanding application and with Scott Precision Wire's many years' experience we are supporting the industry across the globe with our know-how, quality and service.
Please contact Scott Precision Wire for off-the-shelf despatches or quick turnaround orders. In addition to standard orders, fixed price call off or scheduled delivery orders can be accepted to meet the customer's individual and varied demands.
Any welded metalwork, whether it be an oil pipe running across Alaska or a pressure vessel in a chemical plant in Sunderland, requires the welded area to be heat treated. Heater core wire is a heavy-duty, flexible heating wire that is threaded back and forth through ceramic beads to form a heating mat which can be applied to the weld, insulated, and then activated to raise the temperature of the weld and surrounding metal to temperatures of up to 800°C.
Nickel/Chrome and Iron/Chrome/Aluminium alloys (the Cromaloy range) are used for the heater wires with Pure Nickel or Nickel/Manganese 2% being used for the cold leads.
A UK Aerospace customer who manufactures high specification thermocouple assemblies for use in jet engines had a problem in that their manufacturing process caused the thermocouple EMF to drift out of International Specification's. ... read more