Any of the alloys Scott Precision Wire produce can be enamel coated - not just copper.
Applying an enamel coating gives the wire electrical insulation and isolation according to international standards. The high-temperature enamel aids in low to medium temperature applications where adjacent coils of wire may move and touch each other during the heating process with only a small increase in diameter. Scott Precision Wire enamels have a minimum temperature index of 210°C.
get in touch to find out how we can help...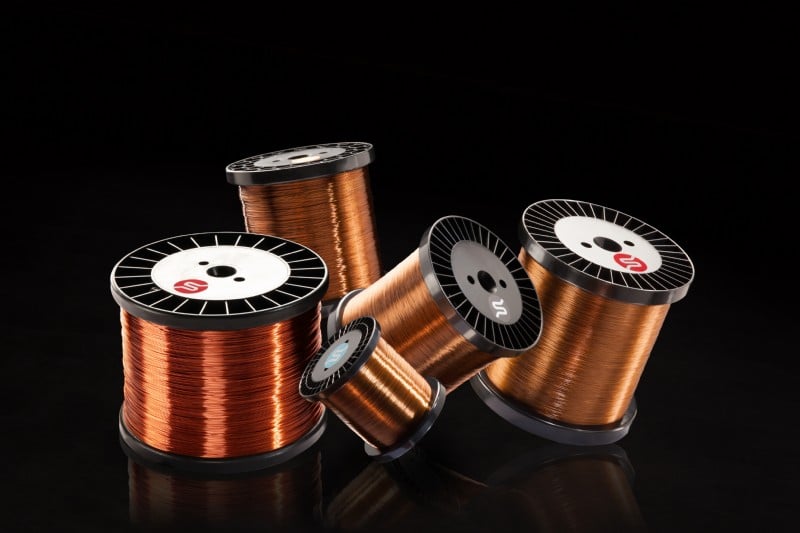 tight resistance specifications for enamel coated wire
Wires are drawn to our tight resistance specifications and then coated with enamel to give a Class 200 rating. Usually Grade 2 thicknesses are used but Grade 1 or Grade 3 can be offered if there is a specific need. After enamelling all wires are subject to our normal inspection regime to ensure that not only does the enamel conform to the standards but the resistance and wire diameter meets the customer specification.
Enamelled wires have found increasing use in Electrofusion fittings. The heating wires can move as the polymer in the fitting melts at the fusion points when they are energised, causing the heating effect to be distorted. This can cause the fitting to 'fail' it's fusion cycle which is monitored by the controller/power source.
Some designs also require the wire to cross over a flat coil, greatly increasing the chances of shorting. Class 200 enamel provides just enough insulation for the electrofusion process without significantly affecting the heat transfer characteristics of the system.
dual enamel wire coating systems
Whilst the dual coat enamel systems have been developed to be applied to Copper wire Scott Precision has successfully applied them to Copper-Nickel, Copper-Tin, Nickel Chrome, Nickel Iron and Iron/Chrome/Aluminum alloys to name but a few.
The somewhat stronger conductors mean the wire does not pass all the tests usually associated with copper wire however it does pass all the important tests related to insulation and adhesion properties.
Contact us with your enamelled wire requirements, you won't be disappointed!
Enamelled wire is another name for magnet wire. Enamelled/ magnet wire is generally made from a copper wire, though it can also be made from aluminium, which is coated with a thin layer of insulation; from this latter feature, the given name of 'enamelled wire' originates.
Winding wire is another name for enamelled or magnet wire. Winding wire is consequently named because of the form enamelled wire typically takes when installed; enamelled wire is tightly wound around, or coiled, so as to produce an electromagnetic field when charged with an electrical power source.
Magnet wire is used in an assortment of electrical equipment, converting electrical energy into other forms of energy, such as magnetic or mechanical motion. Enamelled wire can be found in transformers transferring energy across circuits; inductors; electrical motors creating mechanical motion; and generators. Magnet wire is used across various industries, from automotive and aerospace, to consumer goods and electronics.
There is little difference between copper wire and magnet wire; typically, magnet wire uses copper as the metallic material for its wire, though aluminium may be preferred on some occasions in larger applications. Copper, however, is more energy efficient and thus is often selected over aluminium for magnet wire. Magnet wire is moreover coated with a thin layer of enamel, or fibrous insulation such as polyester or fibreglass yarn, which differentiates it from copper wire.
Magnet wire is compatible with soldering applications; generally, the wire can be soldered with its enamel coating in place, though some enamel is heat resistant and may require removal prior to soldering. There are plenty of guides regarding how to solder magnet wire which can be consulted before soldering operations.
Magnet wire is insulated with a thin enamel varnish coating, or fibrous insulation, such as polyester yarn or fibreglass yarn. Insulation helps optimise thermal endurance, as well as ensuring the wire can make contact with itself without shorting out; this is necessary for the tight and numerous coils of winding wire.
Enamelled wire is made from copper or occasionally aluminium, both of which are a type of conductive wire. Copper is highly conductive and used in many applications where the conduction of electricity is necessary, such as electrical wiring. It is essential that enamelled wire is fabricated from a conductive material so that it may carry an electric charge and convert this to another form of energy, such as magnetic.
Enamel wire coating must meet various specifications encompassing its electrical, thermal, and abrasion capacity. Insulation coating is often made from polyurethane, polyester, polyester-imide, polyamide-imide, along with several plastics such as fibreglass yarn. Enamel wire coating can be of varying thicknesses, with insulation build, or thickness, relating directly to dielectric strength.
A UK Aerospace customer who manufactures high specification thermocouple assemblies for use in jet engines had a problem in that their manufacturing process caused the thermocouple EMF to drift out of International Specification's. ... read more