Any of the alloys Scott Precision Wire produce can be enamel coated - not just copper.
Applying an enamel coating gives the wire electrical insulation and isolation according to international standards. The high-temperature enamel aids in low to medium temperature applications where adjacent coils of wire may move and touch each other during the heating process with only a small increase in diameter. Scott Precision Wire enamels have a minimum temperature index of 210°C.
Totally flexible solutions with
From small, one off samples to large, quality controlled orders, Scott Precision Wire offer the best, not only in quality production but with ongoing technical support all backed up with a strong supply chain, huge stock and multiple years of experience.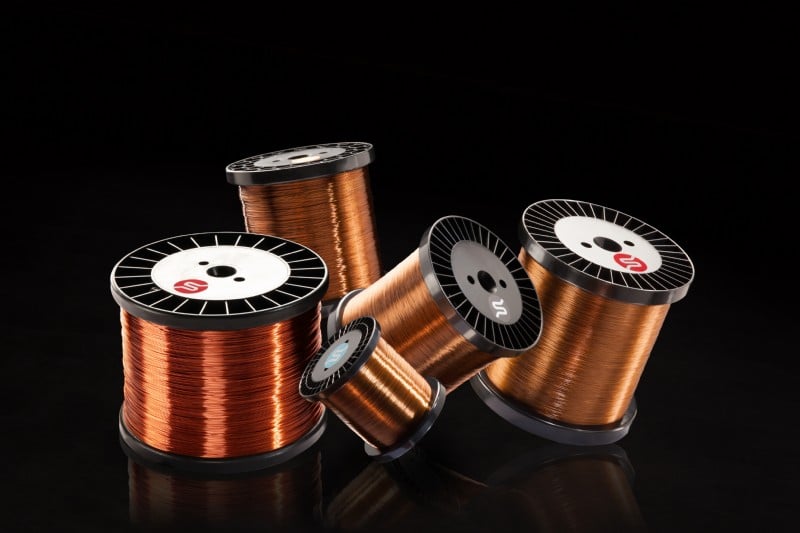 tight resistance specifications
Wires are drawn to our tight resistance specifications and then coated with enamel to give a Class 200 rating. Usually Grade 2 thicknesses are used but Grade 1 or Grade 3 can be offered if there is a specific need. After enamelling all wires are subject to our normal inspection regime to ensure that not only does the enamel conform to the standards but the resistance and wire diameter meets the customer specification.
Enamelled wires have found increasing use in Electrofusion fittings. The heating wires can move as the polymer in the fitting melts at the fusion points when they are energised, causing the heating effect to be distorted. This can cause the fitting to 'fail' it's fusion cycle which is monitored by the controller/power source.
Some designs also require the wire to cross over a flat coil, greatly increasing the chances of shorting. Class 200 enamel provides just enough insulation for the electrofusion process without significantly affecting the heat transfer characteristics of the system.
dual coat enamelled wire systems
Whilst the dual coat enamel systems have been developed to be applied to Copper wire Scott Precision has successfully applied them to Copper-Nickel, Copper-Tin, Nickel Chrome, Nickel Iron and Iron/Chrome/Aluminum alloys to name but a few.
The somewhat stronger conductors mean the wire does not pass all the tests usually associated with copper wire however it does pass all the important tests related to insulation and adhesion properties.
Contact us with your enamelled wire requirements, you won't be disappointed!
A UK Aerospace customer who manufactures high specification thermocouple assemblies for use in jet engines had a problem in that their manufacturing process caused the thermocouple EMF to drift out of International Specification's. ... read more